Water disinfection with UVC technology from Peschl
In many sectors of industry and building services, thorough disinfection of water and process water is essential to ensure a hygienic environment. Whether it is water and storage tanks in the food industry, rinse water in circuit board manufacturing or water filters in HVAC systems, Peschl Ultraviolet's advanced UV water disinfection technology ensures that the germ level in water tanks is kept at a very good level and prevents contamination or recontamination of process water.
Our water disinfection modules use the latest UVC technology to thoroughly and effectively inactivate bacteria, viruses and mold spores. UVC radiation, which penetrates the pathogen cells and destroys their genetic material, eliminates up to 99.99% of all existing viruses and germs and prevents their further reproduction. The process is free of additional chemicals or, in combination, for example with hydrogen peroxide, allows the amount of added chemicals to be reduced to a minimum. UV water sterilization is therefore a particularly gentle and sustainable method of controlling germ levels.
Fields of application of UV water disinfection:
Food industry (disinfection of water tanks, storage containers, rinsing water, etc.)
Pharmaceutical industry (UV water disinfection of process water, germ level minimization of demineralized water, etc.)
Indoor air technology (disinfection of water in air purification systems, lamellas, etc.)
and much more.
Peschl Ultraviolet: The powerful solution for the disinfection of water in plant engineering.
Peschl's UV systems are an excellent support in plant engineering. They can be easily integrated into existing plants or retrofitted and provide highly effective disinfection of water in industrial environments. Let our experienced team advise you and learn more about the possibilities offered by Peschl Ultraviolet!
Get more information about our offer for plant engineers!
Powerful and reliable UV water disinfection from Peschl Ultraviolet
The perfect solution for numerous applications. Our innovative modules meet the highest standards and rely on advanced UVC technology. The targeted use of UV light with a wavelength of 253.7 nm effectively combats viruses, bacteria, yeasts and molds – without the use of chemicals. We thus ensure reliable germ level control in process water tanks, silos, air washers, spray foggers or air conditioning systems. Rely on Peschl Ultraviolet and our powerful UV water disinfection!
High-performance solutions for UV water disinfection with Peschl Ultraviolet
Peschl's UVC modules for disinfecting water with UV radiation are unique thanks to their waterproof design to IP68. Whether used as a submersible lamp, for disinfecting the water surface or for air disinfection – the hybrid system has a wide range of applications. The modules are not only effective in storage, product and water tanks, but also in the surface disinfection of heat exchangers and air coolers. In building and air-conditioning technology, our UVC modules effectively prevent germs from circulating in room air and instead inactivate them during air exchange. Our modules are equally suitable for integration into plant construction and retrofitting. With Peschl UVC modules you rely on a powerful and reliable solution for water disinfection.
See our range of products for water disinfection with UV
DTS®25 Immersion Tube System: Our immersion tube system is an indispensable all-rounder that is of robust industrial design. It is completely waterproof and has an enormous power range of 12-300 watts. Whether in dry areas or under water, this system works reliably and effortlessly. Particularly noteworthy is the optimal integration into larger systems, which makes the immersion tube system an unbeatable part of any production chain. In addition, it is available as a plug & play version including control cabinet solution.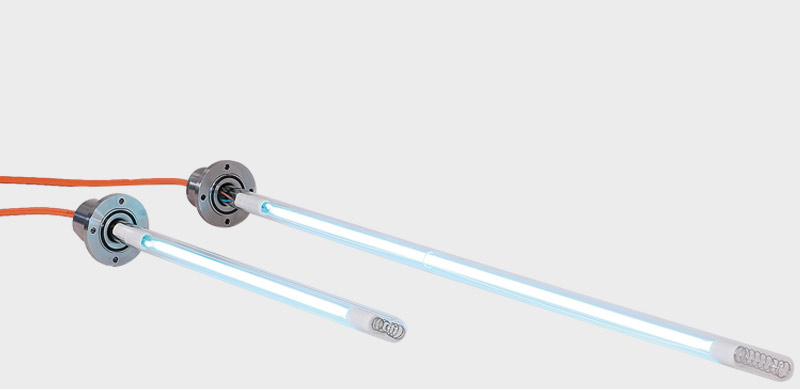 DTS®25
Immersion Tube System
TNN Immersion Tube Lamp: Our TNN submersible tube lamp is a true powerhouse. It defies the elements as it is IP68 waterproof and can even withstand up to 2 bar of pressure. Removable rubber parts ensure that the Immersion Tube Lamp remains protected even when bumped or bent. Whether for water disinfection in HVAC systems and tanks or for surface disinfection in splash-prone areas or areas with high humidity – the TNN Immersion Tube Lamp does every job with excellence and can be integrated quite easily.
Professionals in water disinfection with UV – Peschl Ultraviolet
We specialize in developing custom UVC reactors and assemblies for OEM equipment manufacturers. These can be integrated under your own brand in small to medium volume production runs. Do not hesitate to contact us for more information.
Kundenspezifische
Reaktoren
The advantages of our modules
When it comes to the disinfection of water for industrial purposes, there is only one competent partner: Peschl Ultraviolet. Our systems are the result of over 40 years of experience in UV water disinfection and guarantee the highest quality. As a family-owned company, we supply customers in Europe, the USA and Asia. Trust us and benefit from our expertise!
Benefit from the advantages of our modules:
Sustainable, because chemical-free
Waterproof according to IP68
IFS compliant
Independently tested
Up to 99.99% effective against mold, viruses and bacteria
Our disinfection solutions are the optimal choice for any type of plant and system – whether as a plug-and-play version or retrofitted. With our efficient disinfection solutions, you can disinfect your water entirely without annoying production interruptions. Whether in the food, pharmaceutical or other manufacturing industries or for use in air-conditioning technology: our flexibly applicable, waterproof UVC modules offer maximum safety and convince with their easy handling as well as efficient germ control.
Get your free consultation without any obligation!
You need more information about our UV water disinfection offer? Then don't hesitate and use our online form or contact us by phone. Our competent team of experts will be happy to assist you and answer all your questions. We are looking forward to your inquiry!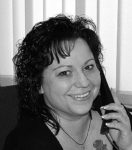 Sandra Weingärtner
Customer Service,
Purchase & Sales
+49 (0) 6131 143845-0