UV Desinfection – Expertise from Peschl Ultraviolet
✓ Air
✓ Water
✓ Surfaces
Innovation in UV disinfection: equipment and devices for all areas
The elimination of harmful microorganisms is more important today than ever before. Reliable disinfection is indispensable in companies, schools and care facilities, but also for drinking and process water disinfection and surface disinfection in industry.
Since 1980, Peschl Ultraviolet has been a leading manufacturer of UVC disinfection equipment for surfaces, air and water in all living and working environments. We offer state-of-the-art, high-performance products for UV disinfection and exhaust air purification in industry, medicine and trade. Whether it is a small room or a large hall, we will find the optimal solution for a virus-free environment.
UV disinfection for industry
Rely on Peschl Ultraviolet's proven disinfection solutions whenever industrial UV disinfection is required. Our innovative UV disinfection modules can be integrated at the plant design stage or easily retrofitted into existing plants. Whether in the food, pharmaceutical or other industries, we offer customized solutions for effective UVC disinfection of your plant. You can rely on our longstanding experience and know-how for safe and hygienic production.
In-house product development
Equipment design and testing
Laboratory for analysis and evaluation
Application consulting
Support in design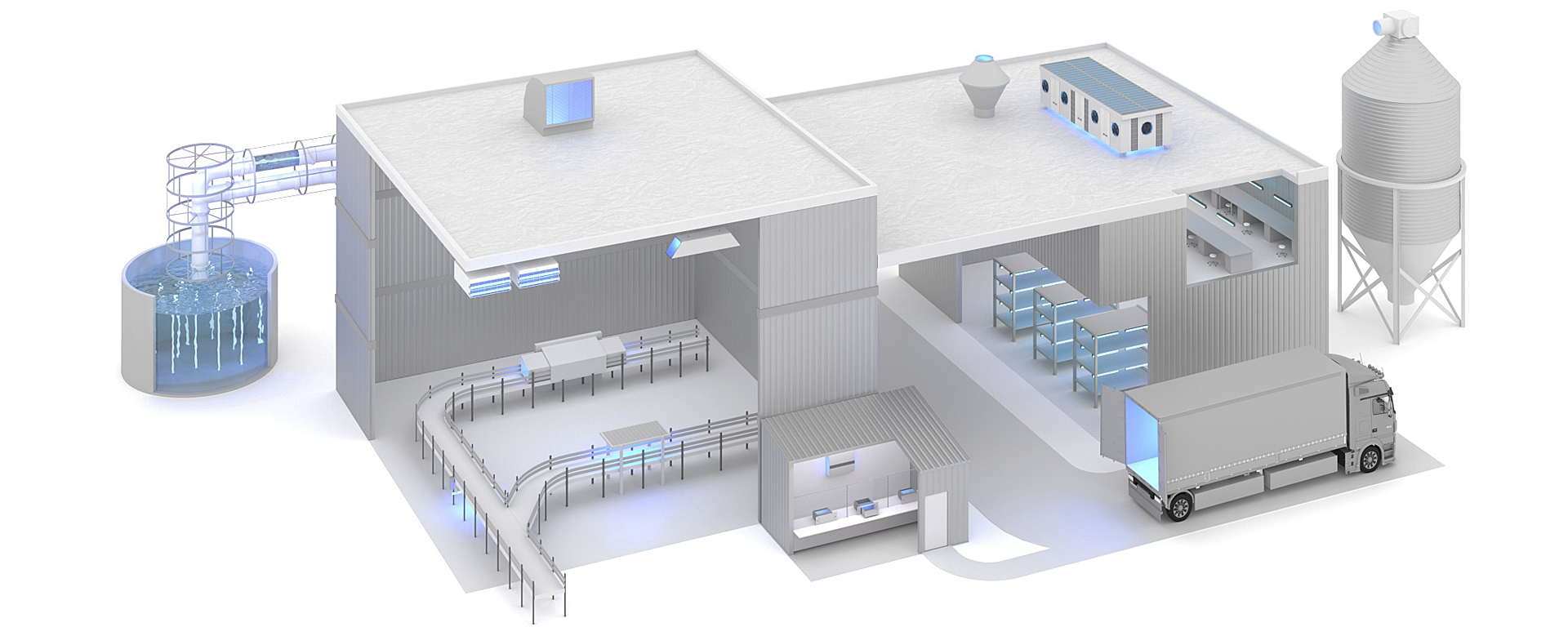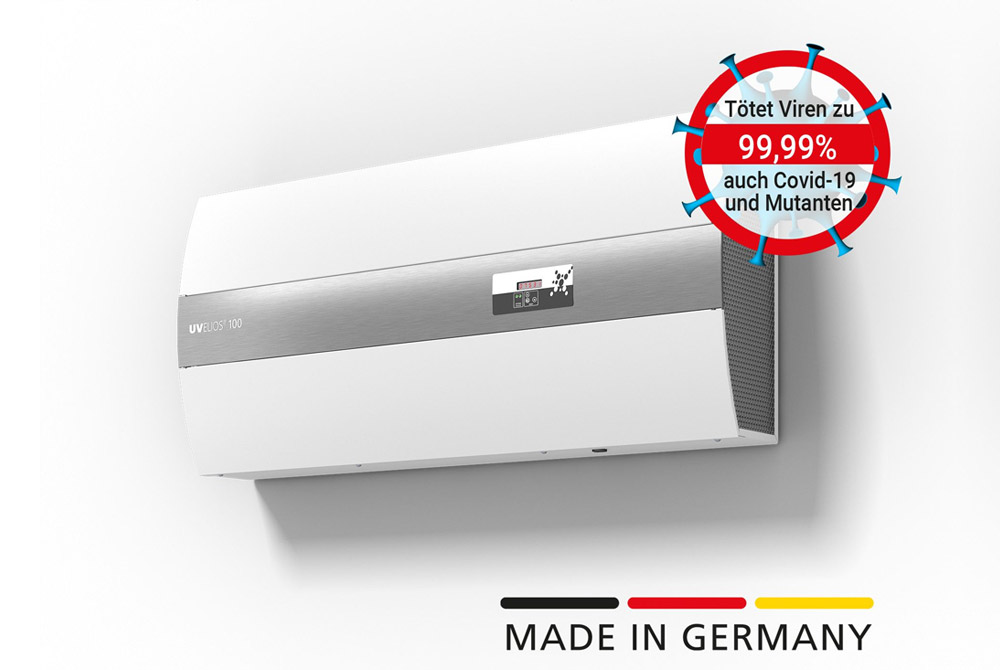 UVC devices in stock
Together with our partners we offer products as optimal solutions for air and surface disinfection by innovative and environmentally friendly UV-C technology.
Our devices for surface and air disinfection disinfect up to 99.99% and free them especially from viruses and germs – safe, ozone-free, low-noise and low-maintenance.
More about disinfection by UVC or How to disinfect with UVC?
UVC radiation represents the most potent range of the light spectrum and is characterized by a wavelength of 200-300 nanometers. In natural sunlight, this form of radiation is completely blocked by the ozone layer. However, when artificially generated and applied under controlled conditions, the exceptionally short wavelength of UVC light can be used to neutralize harmful microorganisms at an impressive rate of 99.9999% – equivalent to a Log 6 reduction.
Viruses in particular, which have a relatively simple cell structure within microorganisms, are effectively eliminated by UVC disinfection without the possibility of resistance forming. Not least because of the discovery of the coronavirus, air disinfection by means of UVC systems has become a highly topical and significant issue.
Take advantage of the effectiveness of Peschl Ultraviolet's UV disinfection now
Peschl Ultraviolet's UV disinfection systems are among the leaders on the market. Thanks to decades of experience and continuous innovation in the field of UV hygiene, we offer effective solutions for UVC disinfection of surfaces, air and water. With our products, you can count on reliable and powerful disinfection.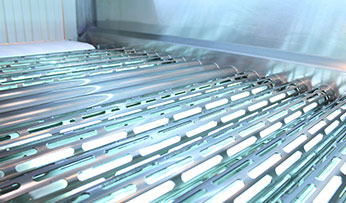 Surface disinfection using UV
The disinfection of surfaces of all kinds is a fundamental aspect of compliance with hygienic standards in the food, medical and pharmaceutical industries. Here there are different application possibilities such as packaging material disinfection, conveyor belt disinfection, raw material disinfection, and many more. UVC technology is a proven method for effectively inactivating viruses, bacteria and mold spores. Disinfection of surfaces with UVC is efficient and environmentally friendly, as no chemicals are used or released into the environment during this process.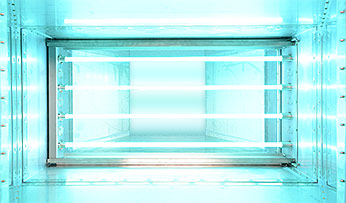 UVC Air Purification
Air conditioning and ventilation systems are almost ubiquitous in all areas of industry, office buildings, care and educational facilities.
By integrating highly efficient UV disinfection into ventilation systems, you can achieve significantly better and germ-free air quality in your premises.
Especially in the manufacturing industry, this ensures a longer shelf life for products. In the office sector, too, improved indoor hygiene helps to reduce the transmission of diseases between employees and prevent sick building syndrome.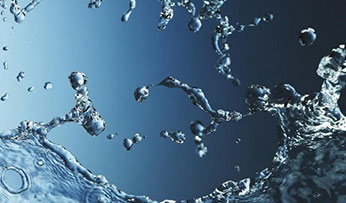 Water disinfection by means of UV
Immersion tube systems are used for water disinfection in tanks and storage vessels, for surface disinfection of evaporator fins and heat exchangers, for water disinfection in air washers of air handling units or between transport rollers for surface disinfection. They are also suitable for safe air disinfection in refrigeration and storage rooms. Immersion tube systems are completely waterproof and can be operated under water (IP68). In addition, they are pressure-tight on all sides up to 2 bar, with flange mounting up to 10 bar overpressure and are available for industrial use.
Any questions? Contact us right away!
If you have any further questions about surface disinfection, water disinfection or air purification, please do not hesitate to contact us. Our competent team is always at your disposal.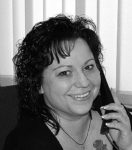 Sandra Weingärtner
Customer Service,
Purchase & Sales
Follow us

You are interested in our other activities or you want to be the first to get the latest news? Follow us!